#1 – Brooklyn Bridge Park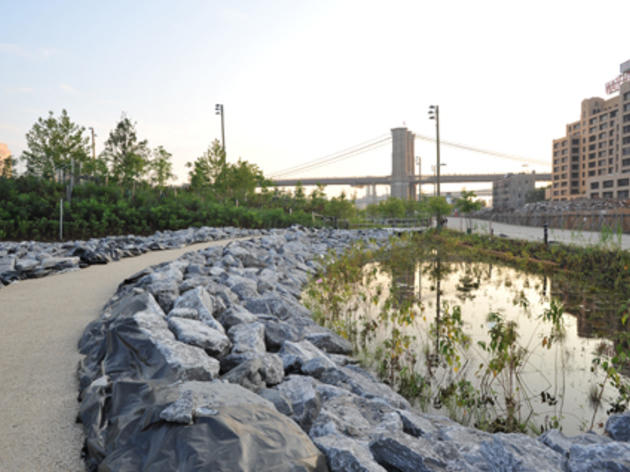 Some city parks were built to replicate rustic fields and preserve serene woodland. Brooklyn Bridge Park, however, was not—and that's precisely why it has become so popular. The project has transformed a chunk of the Brooklyn waterfront into a nearly 85-acre expanse; several sections house unique attractions such as Jane's Carousel, a restored 1920s merry-go-round, and riverside esplanades with gorgeous Manhattan views. Pier 5 is complete with sports fields and a playground, and nearby Pier 2 has basketball courts and a skating rink. When summer rolls around, there's literary readings held in the open air, and outdoor movies play at sundown with one of the best views of the city just behind the screen.
#2 – Central Park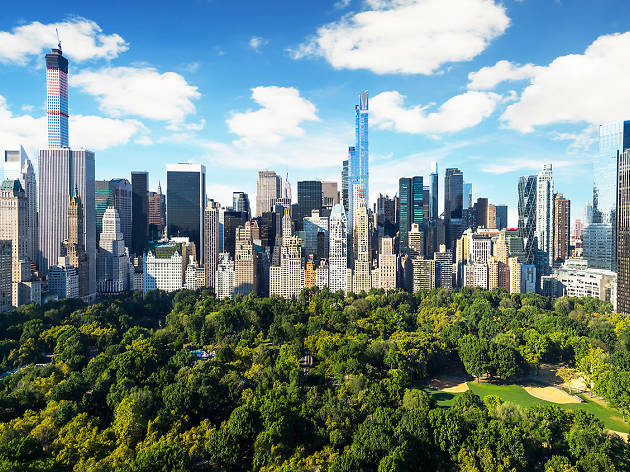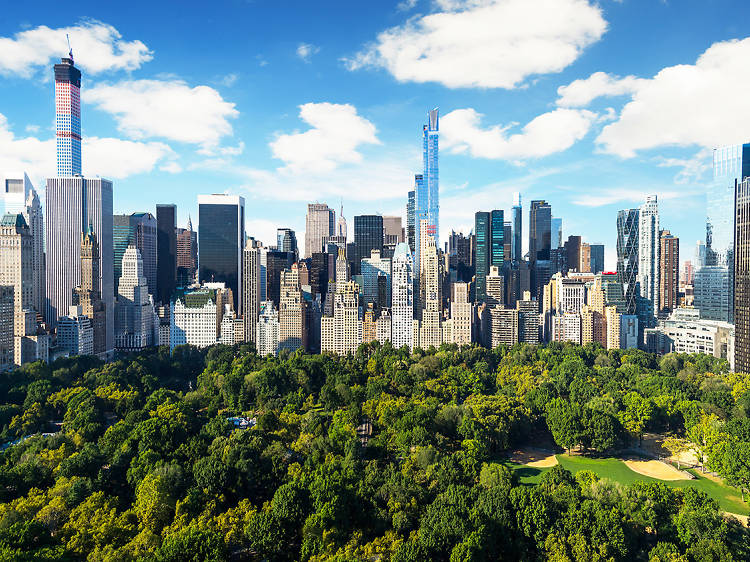 To feel truly out of the city, head to the 38-acre wilderness area on the west side of the park known as the Ramble. The area has a storied history (as a gay cruising spot dating back to the turn of the last century, among other things), and it was even proposed as a recreational area in the mid-'50s. Thankfully, the winding trails, rocks and streams remain, seemingly waiting to be discovered. If you want plenty of sunshine and more of a social vibe, spread out a blanket at Sheep's Meadow, where groups playing guitar and frisbee and tanning topless are sprawled out as far as the eye can see.
#3 – Flushing Meadows–Corona Park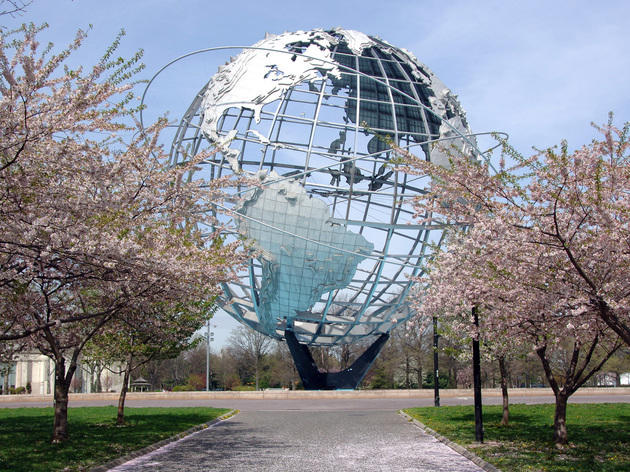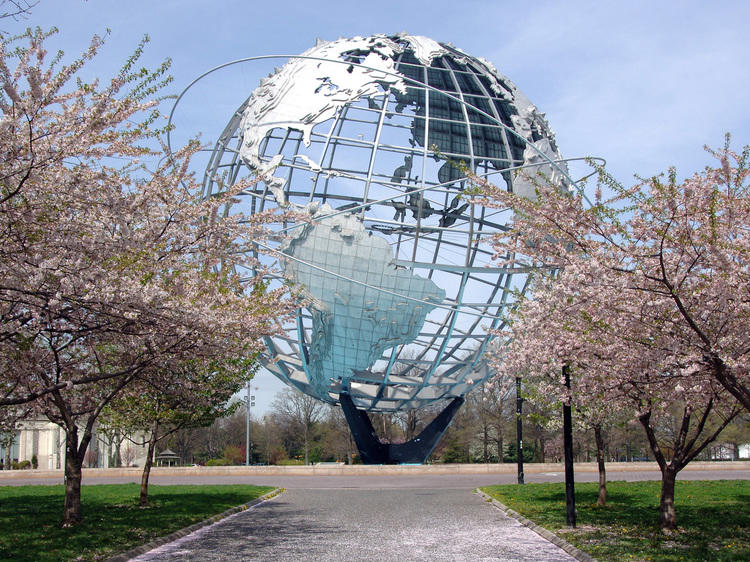 Give the city's second-biggest park a day and it'll show you the world: Its most enduring icon is the Unisphere, the mammoth steel globe created for the 1964 World's Fair. But there's also first-rate culture and sports at the New York Hall of Science, Arthur Ashe Stadium and Citi Field (depending on how the Mets are doing). The rolling green fields also encompass a zoo, a boating lake, a skate park, a barbecue area, playfields, and a $66 million aquatic and hockey center. In 2011, wetland plants such as swamp azalea and swamp milkweed were added to better handle the park's water runoff, improving the catch-and-release fishing in Meadow Lake.
#4 – Prospect Park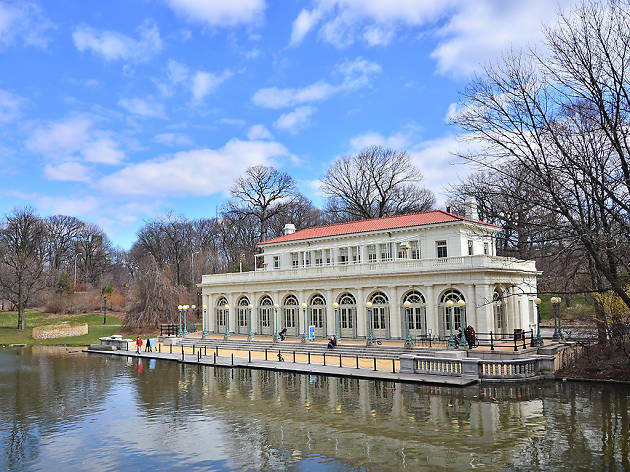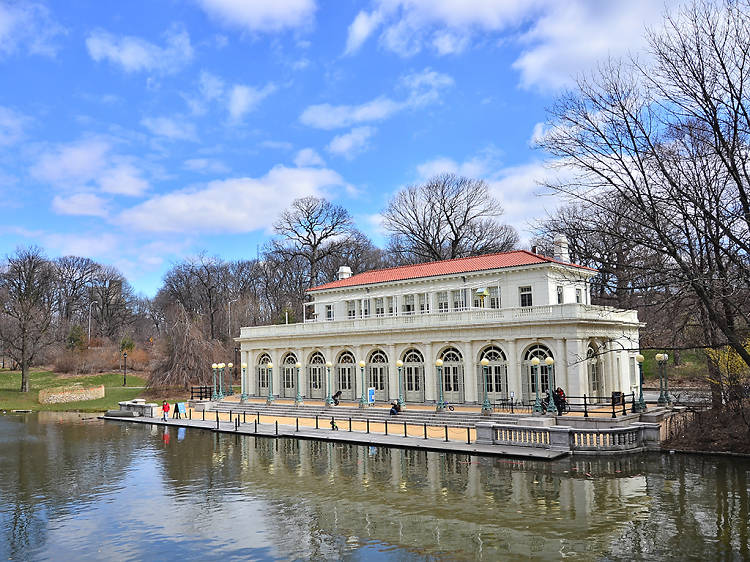 Urban visionaries Frederick Law Olmsted and Calvert Vaux, who most famously designed Central Park, also put their stamp on bucolic Prospect Park. Amenities like the Long Meadow and Nethermead offer plenty of space to pull up on a patch of grass and indulge in some people-watching, and the woodland expanse of the Ravine is a towering forest within bustling Brooklyn. But we also have to give props to Robert Moses: The controversial city planner was behind some of the park's kid-friendly offerings, including the zoo and Wollman Rink, which throws decade-themed skating parties all summer long.
#5 – The Hills at Governors Island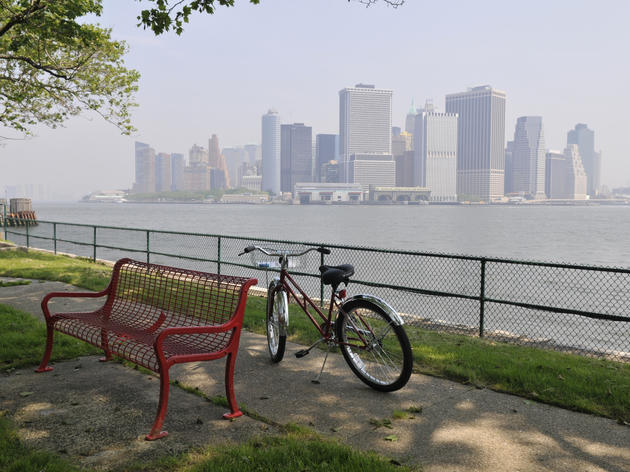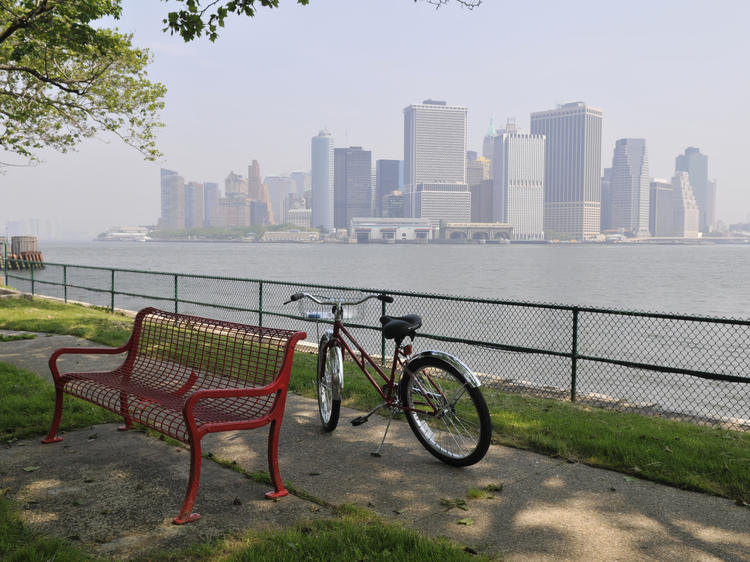 As of 2016, the Hills on Governors Island are alive but not necessarily with the sound of music. Instead, you can hear the hum of parkgoers and their bicycles as they tool around the island's two-plus-mile promenade, the gleeful squeals of folks slithering down one of the four massive slides and the delighted gasps of visitors ogling perfect views of the New York Harbor and Lower Manhattan. While much of the green space's landscape has changed (and, oh, is it hilly), preexisting features such as Hammock Grove and Picnic Point (which had been closed since 2012) are still major focal points. But this new addition has us counting down the days until the island opens for the warm-weather season in May.
#6 – The High Line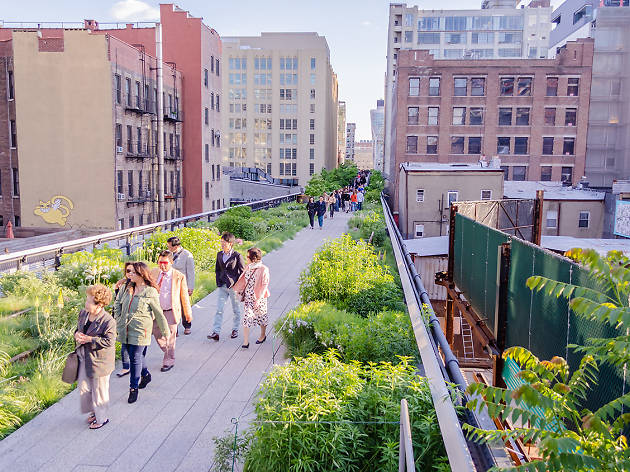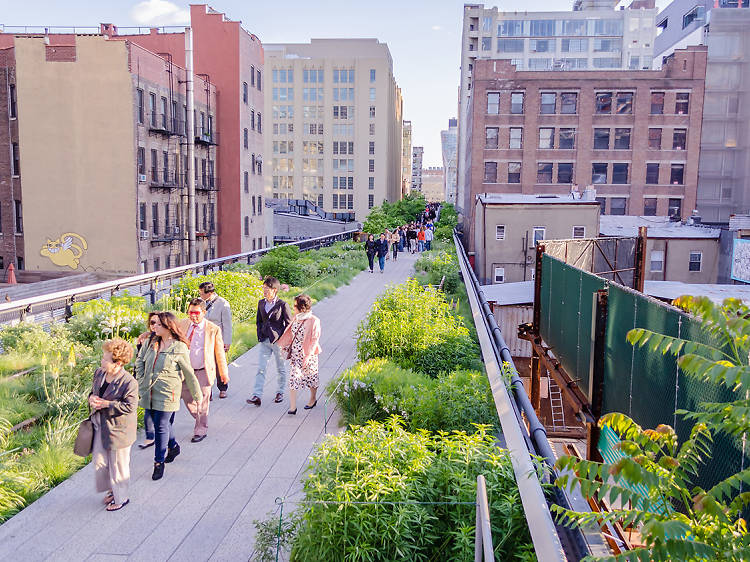 Opened in 2009, this highly anticipated outdoor park sits on the elevated infrastructure built on Manhattan's West Side in the 1930s. The final expansion of the park opened in 2014, and today sumptuous gardens and outdoor sculptures (that change with the seasons) adorn this magnificent walkway, which is also an excellent place to enjoy a view of the Hudson River. There's a food court with ice cream and wine, shallow pools to dip hot summer toes in and coveted lounge chairs to recline in on lazy days.
#7 – McCarren Park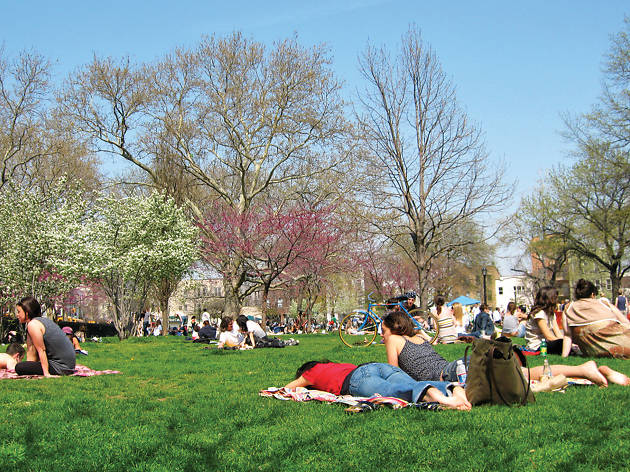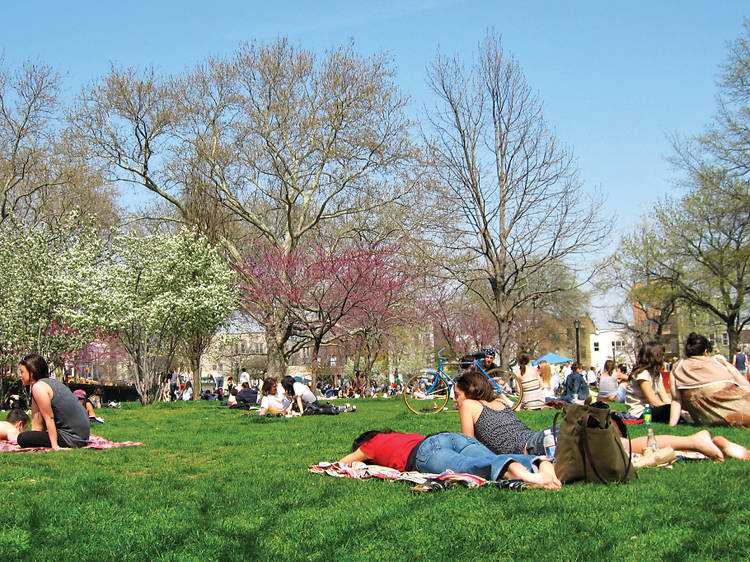 This Brooklyn park is popular with area hipsters, and it continues to be a family favorite, too. There are baseball, football and soccer fields; dog runs; tennis courts and more. You'll also find a playground at Lorimer Street and Driggs Ave. It's also home to SummerScreen—the alfresco film fest—which shows a grab bag of '90s nostalgia picks (so Williamsburg, right?).
#8 – Hudson River Park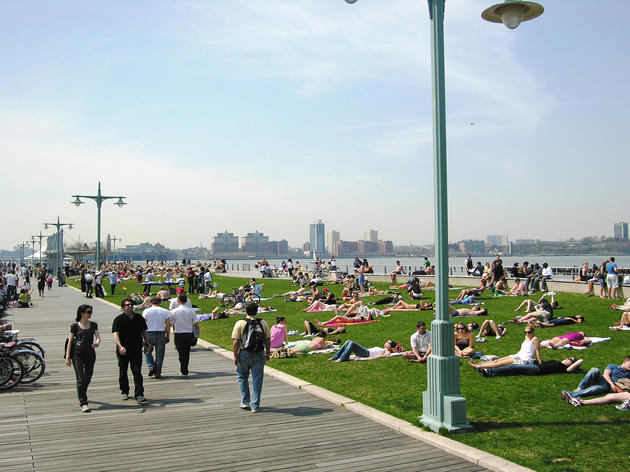 This strip of waterfront park stretches from Battery Park to 59th Street, allowing you to walk, bike or skate while gazing at the Hudson River and New Jersey. There are flowers, benches, piers and lots of programs—including youth sports and kayak rides in the river. On Friday evenings, you can spot everything from people at lawnside boot camps to elderly singing groups belting it out next to a waterside piano.
#9 – Fort Greene Park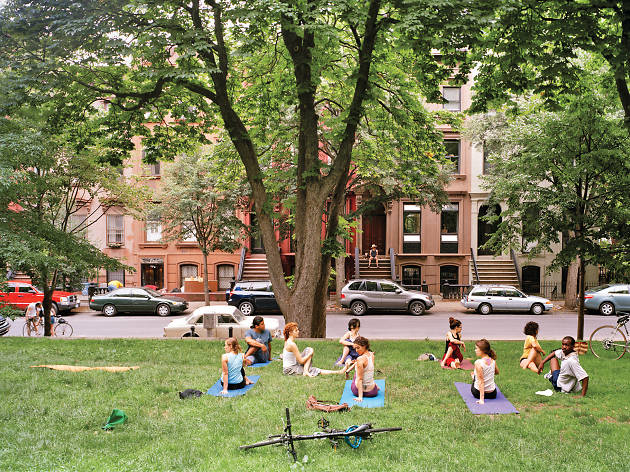 Both Brooklyn's first park and one of it's loveliest, Fort Greene Park plays host to the Soul Summit house-and-classics get-togethers on summertime Sunday afternoons. Explore the 30-acres designed by Olmstead and Vaux, which comprises open meadows, playgrounds and a designated space for all sorts of recreational activities. If you're simply looking for a peaceful space to contemplate the meaning of life, you'll have no problem finding a quiet haven for your thoughts.
#10 – Inwood Hill Park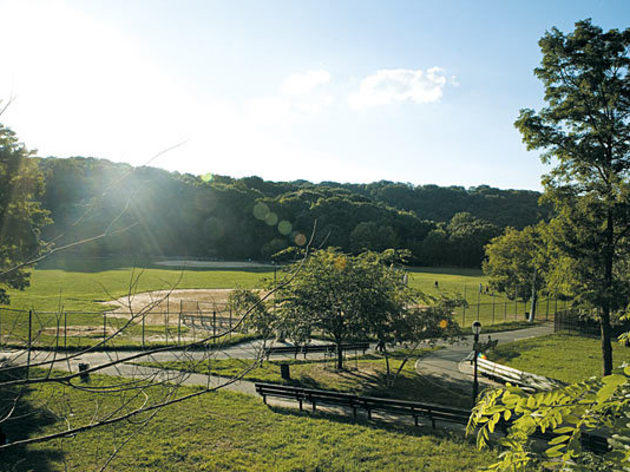 There's a unique reward for trekking to the northernmost corner of Manhattan, where you'll find enormous trees in the island's last virgin forest. Much of the park has never been developed; due to its comparatively remote location, the land remained rural up until its 1916 purchase by the Parks Department, who decided to leave Inwood as natural as possible. As a result, the area remains very similar to the way the island was 500 years ago.